2009-2010 Season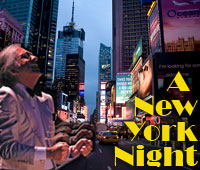 A New York Night
November 2009
The Palm Beach Pops whisked their audience off to the Big Apple for a musical daytrip labeled A New York Night. The delightful concert series featured music by The Beatles, Leonard Bernstein. Duke Ellington, Billy Joel, Judy Garland and favorites from the great white way as well as Broadway singing sensation Rebecca Baxter.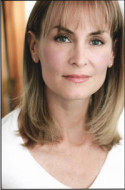 Rebecca Baxter recently received rave reviews in the New York Times for her portrayal of Muriel in Dirty Rotten Scoundrels opposite Joe Piscopo at the Gateway Playhouse in Long Island. Rebecca has performed on Broadway, national and international tours, and performed along side such legends as Leslie Uggams, Jean Stapleton, Kelsey Grammer, Reba McEntire, Eddie Bracken, Jane Powell, and countless Broadway stars. She has appeared on several of the daytime dramas as well as on Law & Order SVU. She is currently seen on the televised "Live from Carnegie Hall's South Pacific" starring Reba McEntire and Brian Stokes Mitchell on PBS.
The program provided numerous hits, showcasing the finest musicians along the East Coast, including Autumn in New York, Just the Way You Are, Honesty, Up Town Girl, New York State of Mind, That Old Devil Moon, The Man That Got Away, Take the A Train, Sing Sing Sing and the debut of a new audience favorite, a refreshing medley of Beatles hits including Hey Jude, Yesterday, Eleanor Rigby, When I'm Sixty-Four and Honey Pie. The finale of New York, New York topped off the night and the audience was ready to touch back down at Palm Beach Internaitional Airport, returning from a thoroughly enjoyable evening.
---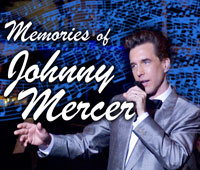 Michael Andrew: Memories of Johnny Mercer
December 2009
In a program that seemed to be a match made in heaven, Maestro Bob Lappin and the Palm Beach Pops celebrated the 100th anniversary of the birth of great lyricist Johnny Mercer with an evening of some of the best-known of Mercer's 1,700-plus songs. Mercer who composed the lyrics to timeless classics "Moon River," "The Days of Wine and Roses," "Satin Doll," "One for My Baby" and others! Featuring world renowned crooner, Michael Andrew.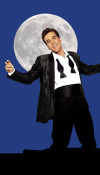 Michael Andrew has always loved sophisticated swing music and his favorite performers were Frank Sinatra, Bobby Darin, Mel Tormé, and the popular song stylists from generations before his time. In 1990, he formed "The Michael Andrew Orchestra" with the goal of providing timeless music in the style of the big bands of the 40's and in the tradition of popular singers like Tony Bennett and Frank Sinatra.He then became the headliner at Merv Griffin's Resorts International Casino Hotel (Atlantic City) in "Mr. G's Lounge." Then, in 1992, Michael became the headlining singer and band leader for the world famous Rainbow Room in New York City.
Audiences enjoyed Mercer classics Skylark, Something's Gotta Give, That Old Black Magic, The Summer Wind, One for the Road, The Days of Wine and Roses, Autumn Leaves, I Wanna Be Around, October Goes, and of course the obvious finale of Moon River.
---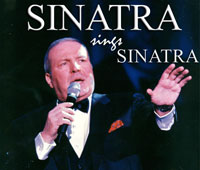 Sinatra Sings Sinatra
January 2010
Bob Lappin & The Palm Beach Pops ushered in the new year with a sparking concert with premier vocalist Frank Sinatra, Jr. in "Sinatra Sings Sinatra."
When Frank Sinatra Jr. and The Palm Beach Pops took to the stage, fans were treated to an incredible tribute to Sinatra, Sr. – a tribute no one else can deliver with the same authenticity and passion. While many famous musicians' offspring struggle in their career, Sinatra Jr. who has not only the looks but a similar voice to Old Blue Eyes, presented himself in a most sincere manner, treating each song as if he was singing it for the first time.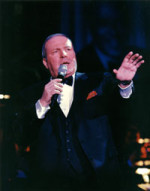 Frank Jr. has performed in major clubs and showrooms throughout the United States, Canada, Japan, Brazil and England. He has appeared on stage with such showbiz greats as George Burns, Phil Harris and Flip Wilson, as well as guest starring on popular television shows including "Laugh In" and "The Golddiggers." He frequently appeared on programs hosted by legends such as Red Skeleton, Jack Benny, Jackie Gleason, Dean Martin, Merv Griffin, and Johnny Carson.
In 1988, Frank, Frank Jr. joined his father's staff as musical director and conductor. He helped to choose the music and rehearsed and conducted the orchestra whenever Ol' Blue Eyes was on stage. Sometimes fate (and smart booking agents) brought Frank Jr. and his father into the same city at the same time. When father and son appeared in the same city, but in separate clubs, loyal Sinatra fans called it an "eclipse." On the rare occasion both appeared in the same hotel or club in separate shows, the event was dubbed a "total eclipse." In 1993 fans flocked to the Desert Inn in Las Vegas, where Frank Jr. was singing in the lounge and his father was performing in the showroom. "It was a lot of work conducting for my father and then singing two of my own shows, but I can't remember when I've had so much fun," Frank Jr. said.
Audiences enjoyed a symphonic pops concert, complete with original orchestrations by Nelson Riddle and Gordon Jenkins, and selections by George Gershwin including Lady Be Good, Fascinating Rhythm, The Man I Love, I Got Rhythm, and Sinatra classics My Way, New York, New York , Luck Be A Lady and Strangers In The Night.
---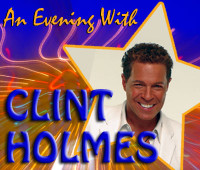 An Evening with Clint Holmes
February 2010
A great musical match-up took place as Maestro Bob Lappin and The Palm Beach Pops welcomed superstar Vegas entertainer Clint Holmes to their stage. Each night that Clint took the stage, he redefined the role of entertainer with multiple standing ovations! His musical journey weaved the audience through many musical styles including Jazz, Broadway and American Songbook treasures. Clint's passion and energy made you realize from the first song that you are in for an unforgettable night.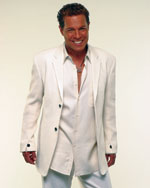 Casual elegance describes Clint's presence on stage. He has a magical way of filling a room with a warm, comfortable sound. After a seven year run as the headliner at Harrah's in Las Vegas, Clint was recently inducted into the Nevada Entertainment Artist Hall of Fame and voted "Singer of the Year" twice. Clint was crowned "Atlantic City Entertainer of the Year" three times.When Clint is on stage, anything can happen, and usually does!
Holmes, best known for his silky vocal stylings, has also honed his many other talents, which include dancing and a warm comedic touch. He comes by his tremendous talent naturally. His father is an African-American jazz musician and his mother is a classically trained Opera singer from Great Britain. Clint admits it was the best of two musical worlds, "My mom taught me how to sing correctly, and my dad taught me how to enjoy it."
In addition to hosting his own Emmy Award-winning talk/variety show, "New York at Night," Clint had a Top Ten smash hit with "Playground In My Mind (My Name is Michael)." Targeted for Broadway, Clint has written and stars in his highly acclaimed autobiographical musical, "Just Another Man" and recently appeared at Carnegie Hall with The New York Pops.
The evening began with the Chaplin classic, Smile, and world-famous orchestrator, arranger, pianist and music director for the likes of Sinatra to Sesame Street, Mike Renzi, joined Lappin on stage for a dueling piano version of Gershwin's Embracable You. The Pops also brought out their medley of award-winning songs by Michel LeGrande including I Will Wait For You and How Do You Keep The Music Playing?
As soon as Clint Holmes hit the stage, he took off running with Get Me To The Church On Time…and the audience was immediate swept up in the rapture. Other highlights included What Kind of Fool Am I?, Under My Skin, Michael Jackson's Human Nature, a stunning West Side Story medley and several original tunes from his soon to be produced autobiographical musical including If Not Now When. Clint treated the audience to a viewing of his music video for the theme song he wrote for the award-winning documentary, "Who Will Stand," an eye opening, heart wrenching and inspirational look at life in the military, which premiered in November 2009. And we couldn't forget Clint's number one top hit from the 1970s, Playground In My Mind, which had the crowd happily singing along. Simply, a great night of music.
---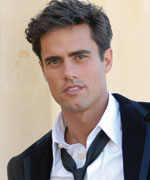 A Tribute to the Music of Andrew Lloyd Webber & Les Misérables
March 2010
Nobody sets the stage for Broadway like Bob Lappin & The Palm Beach Pops! The evening offered inspired performances from the Pops muscians as well as the guest vocalists, Tamra Hayden of Les Misérables and David Burnham star of Wicked in a well-paced presentation that captivated the audience.
David Burnham returns from New York where he played Fiyero in the Broadway production of "Wicked" and was a member of the original Broadway cast of the six-time Tony Award winning musical "The Light In The Piazza," performing on both the "Tony Awards" and the PBS telecast "Live From Lincoln Center." David was the 2007 recipient of the prestigious Helen Hayes Award for best actor as well as the 2007 best actor Garland Award for his portrayal of Fabrizio Nacarelli in the national tour of "The Light In The Piazza". David has released his debut solo CD, "David Burnham."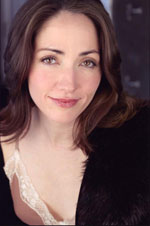 Tamra Hayden played the role of Cosette in "Les Misérables" on Broadway, toured nationally as Christine in "Phantom of the Opera" and was Hodel in "Fiddler on the Roof", opposite Theodore Bikel. An extremely versatile singer and actress, Tamra has also played for regional theatres in a variety of roles such as Tiger Lily in "Peter Pan," Eva Peron in "Evita," Mabel in "Pirates of Penzance," and Guinevere in "Camelot." Tamra has produced two CD's: "A Day At The Fair," a singer/songwriter album of original tunes and "Unwrapped," a Christmas CD with pianist/arranger Eugene Gwozdz.
The orchestra started with Strings on Fire by Henry Mancini along with a medley from La Cage Aux Folles, then wowed the audience when David Burnham was introduced to sing an emotional rendition of Bring Him Home. Concert Master and principal violinist Mary Rowell played a solo of John Williams' haunting theme from Schindler's List…without any amplification…for a heart-wrenching performance that poured out across the theatre. Bob Lappin took to the ivories for Time After Time and was joined by bassist Phil Flanigan and drummer Frank Derrick for a jazzed up version of Old Man River. Hayden and Burnham took turns at the microphone for the Webber medley which included Don't Cry For Me Argentina, Memories (which Burnham knocked out of the park!), Music Of The Night and All I Ask Of You which brought the crowd to a standing ovation!
---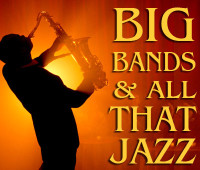 Big Bands & All That Jazz!
April 2010
The culmination of this impressive series concludes when Lynn Roberts, world-famous female singer of the Big Bands, joins Bob Lappin and The Palm Beach Pops tol light up the stage swinging with the music from the Big Band Era and all-time jazz favorites! The dynamic mix of a Big Band within the full orchestra creates a kaleidoscope of music produced by the famous swing orchestras, the talented singers and song writers of that era.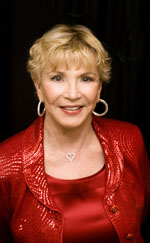 Lynn Roberts started her singing career with Charlie Spivak at the age of 15 and continued singing with the great band leaders Vincent Lopez, Tommy and Jimmy Dorsey, Benny Goodman and Harry James. Lynn has the distinction of being the only female singer to sing with all these superstar band leaders.
Her career momentum led her to stellar performances throughout the world. Many famous clubs became routine stops; the Café Rouge at the Statler Hotel in Manhatten, the Coconut Grove and The Palladium in Los Angeles, and the renowned Paramount Theatre in New York with the Dorsey Brothers and Frank Sinatra. She also shared the spotlight with Sammy Kaye on the ABC-TV show, "Music From Manhatten." Lynn has released a number of CDs including "The Men in My Life" and "I'll Never Stop Loving You."